You'll Never Guess The Secret Ingredient In This Mango-Raspberry Sorbet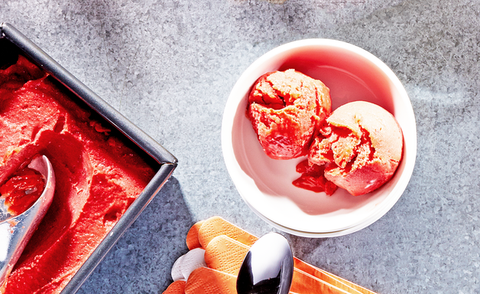 Without sacrificing nostalgia, this sorbet upgrades a long-time, warm-weather favorite with coconut milk. Thanks to its higher fat content, the non-dairy milk works wonders in lieu of heavy cream, adding richness to this tasty sorbet.
Coconut milk is one of just three ingredients in this simple recipe, along with frozen raspberries and mangos. (Yes, that's literally all you need.) That said, the prep does require a bit of work—in addition to using the food processor, your arms are going to be doing some mixing, too. But hey, there's nothing like getting an extra arm workout while whipping up a huge batch of fruity sorbet.
After a little scooping here and a little stirring there, you'll find yourself wanting to bathe in this tray—or maybe that's just me.
Regardless of how you choose to eat this frozen dessert, you'll likely discover that mango is truly at its best when cold and mixed with raspberries. The sweet and tart flavors blend flawlessly together, creating a perfect balance. And while you can read about these flavors all day, it's just something you'll have to taste to believe.
frozen mango (about 6 cups)
frozen raspberries
lite coconut milk
Per serving: 60 calories, 1 g protein, 14 g carb, 2 g fiber, 11 g sugars (0 g added sugars), 1 g fat (1 g sat fat), 0 mg sodium
This recipe originally appeared in the April 2019 issue of Women's Health. For more intel on how to live a happier, healthier life, pick up an issue on newsstands now.
Source: Read Full Article