What FTC Proposed Ban on Noncompetes Could Mean for Docs
Physicians and other clinicians could more easily exit contracts and change jobs under the Federal Trade Commission's new proposed rule that would block companies from limiting employees' ability to work for a rival.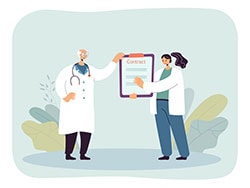 The proposed rule seeks to ban companies from enforcing noncompete clauses in employment contracts, a practice that represents an "unfair method of competition" with "exploitative and widespread" impacts, including suppression of wages, innovation, and entrepreneurial spirit, said the FTC. The public has 60 days to submit comments on the proposal before the FTC issues the final rule.
Employers often include noncompete clauses in physician contracts because they want to avoid having patients leave their healthcare system and follow a doctor to a competitor. A 2018 survey of primary care physicians found that about half of office-based physicians and 37% of physicians employed at hospitals or freestanding care centers were bound by restrictive covenants.
"A federal ban on noncompete agreements will ensure that physicians nationwide can finally change jobs without fear of being sued," Erik B. Smith, MD, JD, clinical assistant professor of anesthesiology at the University of Southern California Keck School of Medicine in Los Angeles, told Medscape Medical News.
Many doctors would like to see noncompete agreements vanish, but some physicians still favor them.
"As a small practice owner, I am personally against this. The noncompete helps me take a risk and hire a physician. It typically takes 2-3 years for me to break even. I think this will further consolidate employment with large hospital systems unfortunately," Texas cardiologist Rishin Shah, MD, recently tweeted in response to the FTC announcement.
Smith, who has advocated for noncompete reform, says about half of states currently allow the controversial clauses.
However, several states have recently passed laws restricting their use. California, North Dakota, and Oklahoma ban noncompetes, although some narrowly defined exceptions, such as the sale of a business, remain.
Other states, like Colorado, Illinois, and Oregon, broadly ban noncompete clauses, except for workers earning above a certain threshold. For example, in Colorado, noncompete agreements are permitted for highly compensated employees earning more than $101,250.
Despite additional restrictions on noncompete agreements for workers in the District of Columbia, the new legislation does not apply to physicians earning total compensation of $250,000 or more. However, their employers must define the geographic parameters of the noncompete and limit post-employment restrictions to 2 years.
Restrictive covenants are "uniquely challenging to family medicine's emphasis on longitudinal care and the patient–physician relationship," says Tochi Iroku-Malize, MD, MPH, president of the American Academy of Family Physicians. The limitations imposed by noncompete agreements "potentially reduce patient choice, lower the quality of care for patients, and ultimately harm the foundation of family medicine — our relationships with our patients," she said.
Although the proposed rule aligns with President Biden's executive order promoting economic competition, Smith says a national ban on noncompete agreements may push the limits of FTC authority.
"This new rule will certainly result in a 'major questions doctrine' Supreme Court challenge," says Smith, and possibly be struck down if the court determines an administrative overstep into areas of "vast economic or political significance."
A Controversial Policy
The American Medical Association's (AMA) code of ethics discourages covenants that "unreasonably restrict" the ability of physicians to practice following contract termination. And last year, the AMA cited "overly broad" noncompete language as a red flag young physicians should watch out for during contract negotiations.
But in 2020, the AMA asked the FTC not to use its rulemaking authority to regulate noncompete clauses in physician employment contracts, and instead, relegate enforcement of such agreements to each state. The American Hospital Association expressed similar views.
Still, the FTC says that eliminating noncompete clauses will increase annual wages by $300 billion, allow 30 million Americans to pursue better job opportunities, and encourage hiring competition among employers. It will also save consumers up to $148 billion in healthcare costs annually.
"Noncompetes block workers from freely switching jobs, depriving them of higher wages and better working conditions, and depriving businesses of a talent pool that they need to build and expand," Lina M. Khan, FTC chair, said in a press release about the proposal.
A national ban on noncompetes would keep more physicians in the industry and practicing in their communities, a win for patients and providers, says Smith. It could also compel employers to offer more competitive employment packages, including fair wages, better work conditions, and a culture of well-being and patient safety, he says.
"Whatever the final rule is, I'm certain it will be legally challenged," says Smith, adding that the nation's most prominent business lobbying group, the US Chamber of Commerce, has already issued a statement calling the rule "blatantly unlawful."
Steph Weber is a Midwest-based freelance journalist specializing in healthcare and law.
For more news, follow Medscape on Facebook, Twitter, Instagram, YouTube, and LinkedIn
Source: Read Full Article