This Guy Lost 104 Pounds and Got Absolutely Shredded in the Simplest Way Possible
Varun Kaushik used to live his life in a haze. Each day, for almost every meal, the 23-year-old from Jaipur, India, would go out and indulge. This led to low energy, depression, a scale reading 250 pounds, and a deep fear of the future. After trying and failing several fad diets and loading up on supplements, Kaushik finally found the secret to success: Hard work. And it paid off with a 104-pound weight loss.
"My life before this transformation was absolutely the opposite to the kind of life that I am living as of now," Kaushik says. "I was governed by my poor eating habits and I was also extremely negligent towards my health."
Kaushik's life was a sedentary one, with no exercise at all. Paired with his emotional eating and binge habits, Kaushik quickly gained weight and hit that 250-pound mark by his early 20s.
"They say that you don't come to notice something until it really hits you hard and this is exactly what happened with me," he says. "I had reached a point in my life wherein I used to be fat shamed. A lot."
Beyond the shame, Kaushik's weight came with very real health consequences. Not only did he suffer from depression and stress, but he was also diagnosed with borderline diabetes and high cholesterol. So, while other people his age were out having fun, Kaushik sat alone in his pain. Fed up with this life, Kaushik woke up one day and decided he'd had enough.
At first, he thought he was taking the right step by joining a gym and loading up on every supplement his trainer told him to take. He tried trendy diets and spent hours on cardio machines to aid in rapid weight loss. Though he did, in fact, lose pounds, he knew this wasn't the right way. So he found someone to help him find his true path to success.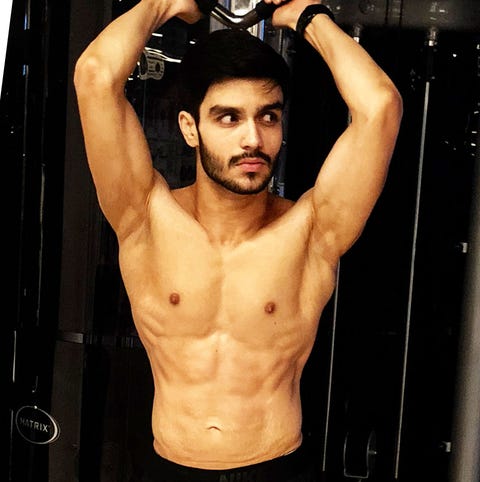 Varun Kaushik
"I met Akash from RNT Fitness and asked him to be my coach. Unlike other trainers that I met in the past, Akash's approach was extremely simple and focused," Kaushik said. "He educated me about the importance of fixing one's basics instead of opting for complicated and fancy looking stuff."
The two sat down and curated a bespoke plan for Kaushik's needs, goals, and lifestyle. Those plans included a consistent routine that involved getting proper sleep, hitting a daily step target, and aiming for a healthy nutrition plan and a calorie deficit.
For Kaushik, the hard part came when he hit a plateau, or when his motivation ebbed. That's where his trainer truly came in handy. "Having Akash as my mentor and coach was the wisest decision I ever made because that made me accountable to someone whom I didn't want to disappoint," he said. "Even when he was miles away, his constant support and motivation made me who I am today."
Change, Kaushik said, takes time. But for him, it was worth it and he was rewarded with all of his hard work alongside his trainer. By the age of 23, Kaushik dropped 104 pounds to hit his new weight of 146.
"This fat loss biggest transformation has been a real game changer for me. It has been a life-changing experience," he says. "I have regained my lost confidence. All the health issues that I used to suffer from are long gone." Kaushik implores anyone looking to lose weight to think about the "why" behind their journey.
"Understand why you're putting yourself through this and why is this journey so important for you," he says. "Many times, you will feel like quitting and letting it all go and that's where your 'why' will motivate you to continue, no matter what." Of course, he'd also suggest hiring a trainer to push you too.
"Listen to your coach and remember that consistency trumps everything. Plans don't work, coaching does," he says. "People need to stop chasing complicated things and focus more on 'simple' things. And remember: Rome wasn't built in a day."
Source: Read Full Article