Selma Blair Just Revealed That Her 'Aggressive' MS Has Been In A Flare For 8 Months
Selma Blair made her first red carpet appearance at the Oscars Sunday night since being diagnosed with multiple sclerosis (MS)—and she absolutely slayed it.
Selma shared a photo of herself (taken by Mark Seliger for the Vanity Fair Oscars Party), wearing a gorgeous caped gown, with her custom-made cane in hand. "When my life flashes before my eyes, I want this portrait by @markseliger to be front and center."
View this post on Instagram
When my life flashes before my eyes, I want this portrait by @markseliger to be front and center. @vanityfair @frankieboyd @mrchrismcmillan @elizabethstewart1 @ralphandrusso @thetexastroya @tombachik @lyon_hearted @kristasmith @radhikajones Thank you. 🖤 #markseliger #glory
A post shared by Selma Blair (@selmablair) on
But Selma revealed some bad news in her comments section: "I am still 8 mos in a flare," she wrote. "It's a drag. Literally." Selma also replied to commenters that her "aggressive" MS "has not remitted."
What is an MS flare, exactly?
Let's back up a bit: Multiple sclerosis (MS) is an often disabling disease of the central nervous system, according to the National Multiple Sclerosis Society. The body's immune system attacks nerve endings in the central nervous system, per the NIH, which essentially disrupts the flow of information within the brain and between the brain and body.
This can cause fatigue, spasticity, walking issues, numbness or tingling, weakness, vision problems, and pain, the NMSS says.
MS is a disease that is marked by flares, i.e. a sudden worsening of symptoms, or attacks, says Amit Sachdev, MD, associate medical director for the department of neurology and ophthalmology at Michigan State University. "A flare can happen when there is a new patch of inflammation in the brain or spine," he explains. You can also get a flare from a change in your health (like having a cold or UTI), he says.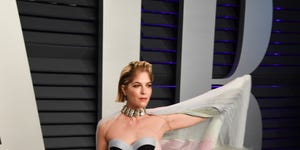 "A flare can look like a stroke," Sachdev says. "There is often numbness, weakness, instability, and lack of coordination."
But people with MS can experience flares differently, and it usually has to do with where the inflammation is taking place in the body, says Santosh Kesari, MD, PhD, a neurologist and neuroscientist at Providence Saint John's Health Center in Santa Monica, Calif.
"Flares typically last days," says Dr. Sachdev. "However, if there's a new area of damage due to inflammation, then the flare results in symptoms that could take months to heal."
In general, doctors act quickly when a patient complains of a flare, and they treat it with steroids or other drugs to help it pass, says Dr. Kesari. "For the most part, the sooner you catch it, the better the treatment works," he says. And, while every case of MS is different, Dr. Kesari stresses that there are a lot of treatment options for the disease—and they can help reduce the number of flares.
As for Selma, it's unclear what type of treatment she's currently receiving for her MS, but here's to hoping she'll come out of her flare soon—and that she gets that Vanity Fair portrait framed to remind her of how badass she is.
Source: Read Full Article