Kellogg's Brought Back Chocolate Peanut Butter Corn Pops for the First Time in 10 YEARS
The only thing better than a brand-new cereal is when a discontinued cereal from the past makes its way back to shelves. That's exactly what has happened with Kellogg's Chocolate Peanut Butter Corn Pops.
The cereal, which is made with real peanut butter and chocolate, first came out in 2007 and returned to shelves in 2009—so it's been 10 years since they were sold. Thanks to the power of Instagram, we know that the Kellogg's cereal is back, with a whole new packaging look!
New @KelloggsUS Chocolate Peanut Butter Corn Pops are in stores now! • 🍫🥜 This cereal was actually introduced in 2007, and then again in 2009. We never tried it back then, so we are thankful for its rerelease. However, it does look a bit different than how it used to. Wonder if anyone can compare the two based on their memory of how the former tasted. This cereal is great and represents the flavor well, but it is more on the peanut butter side. Because of that, and the Corn Pops texture, I enjoy Reese's Puffs more than these. Matthew is still a bit iffy. We would have been much more partial to a Chocolate Peanut Butter Krave flavor. Next time, @Kelloggs. 🙏🏾👀 Don't let this review deter you from trying it yourself though, it really is good and your opinion may vary. Reese's Puffs is just hard to compete with as far a chocolate peanut butter cereal is concerned, which isn't even our favorite cereal to begin with. Found at ShopRite, thanks to @ChopsticksandFork for the location! Anyone else spot these elsewhere?
A post shared by Marcus and Matthew (@mnmtwinz) on
In February 2019, Instagram account @markie_devo reported that the cereal would be making a comeback. Then, on May 13, @candyhunting posted of the Corn Pops spotted in Shoprite. A few hours after that, @mnmtwinz posted a photo of them also from Shoprite. Still with us? So it looks like you can definitely get them at Shoprite and (hopefully) other retailers — although no website has listed them as of now.
With the chocolate and peanut butter flavors, it's easy to compare these to the beloved Reese's Puffs. As far as taste goes, @mnmtwinz said, "This cereal is great and represents the flavor well, but it is more on the peanut butter side. Because of that, and the Corn Pops texture, I enjoy Reese's Puffs more than these."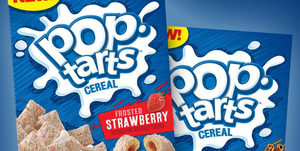 Source: Read Full Article