How This Guy Went from Eating Pizza on the Couch to Teaching Spin Classes
Jared Sklar knows all too well what love can do to your waistline. Though he was athletic in his younger years—playing baseball and hockey as a teen—the Los Angeles-based 27-year-old let all that fall to the wayside when he found love. Like many people out there in new relationships, he replaced healthy habits with dining out, relaxing inside watching TV, and having all of his other motivations fall to the wayside.
It wasn't until Sklar opened his fridge one day and saw several pizza boxes staring back at him, along with a scale reading 285 pounds, that he decided it was time to change. And change he did—all the way down to 198 pounds.
"The things that lead to my weight gain were laziness, and just not really feeling motivated," Sklar says. "I'd just started a relationship with my girlfriend, and we sort of got 'comfortable' with just staying in and eating pizza multiple times a week."
Beyond the boxes, Sklar was also experiencing general unhappiness with his health and fitness level. "It was the constant embarrassment of even wearing a t-shirt out in public, and the realization that my clothes weren't shrinking, I was getting bigger," he says.
Beyond the love pounds and tight t-shirts, weight gain was also hugely alarming to Sklar due to his family history: Two of his uncles died after experiencing heart attacks in their thirties, while his grandfather died in his mid-sixties from a heart attack.
In October, Sklar's own father underwent emergency bypass surgery because he had a ninety percent blockage in one of his arteries. Thankfully, his father made it through, but after witnessing what could happen to him, Sklar vowed to never forget it. So he went to his girlfriend and asked for her help.
"Although we have different styles and don't go to the gym together, we compliment each other," he says. "At the time, she was focused on getting into the gym, whereas I disagreed and suggested we start eating better. Eventually, we just fell on the idea that if we are going to actually see results, we needed to change our lifestyle completely."
For his diet, Sklar tried a few trendy methods that worked for him. That included intermittent fasting, meaning he ate inside a specific window of time each day. This, he explained, made him "more cognizant of what I was eating. This was key for me because I wanted to make sustainable changes that would have a positive effect but also lead to long term success."
He also cut out red meat and made other healthy swaps like changing out his beloved sour cream with greek yogurt. "Little changes in my diet across the board have proven to add up to a large success," Sklar says. Next, Sklar turned to changing up his fitness routine. And he found another love of his life when he discovered the spin bike.
"The spin bike might have literally saved my life," he says. "I was—and still am—on the bike six days a week." Sklar started in the spin room alone with just a pair of headphones and a high-intensity interval training, or HIIT routine. He got so good at spin that he eventually started teaching the classes. Sklar then added a weight routine to round out his workouts. His fitness, paired with new healthy eating, lead to Sklar dropping 87 pounds to hit his new weight of 198.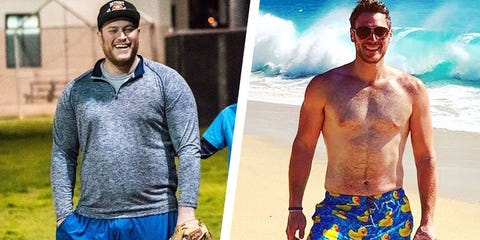 Jared Sklar
"I started seeing results almost immediately," Sklar explains. "Whether it was just the fact that I was in such bad shape and had so much to lose, or the fact that I had changed the type of workout I was doing, I started losing weight within the first week." Regaining his health, Sklar said, is an "unbelievable feeling" both mentally and physically.
"I am more confident in the person I am today when speaking to people. It truly has been a total life overhaul," he says. Beyond the physical, Sklar notes that his energy levels are sky-high. He has more energy after work and is excited to participate in more things, rather than sit on the couch all evening. As for what others can learn from his story, Sklar explains it's best to keep it simple and "find what works for you."
"There are a million fad diets and workouts out there, but none of them are any good if you are going to flame out after a month," he says. "If you are going to have large long-term effects, you need to truly make a lifestyle change. The changes don't need to be crazy: Just make a bunch of small changes and eventually they will add up to big results."
Source: Read Full Article