COVID-19 in Children: New Cases Back on the Decline
Editor's note: Find the latest COVID-19 news and guidance in Medscape's Coronavirus Resource Center.
New cases of COVID-19 in children in the United States fell slightly, but even that small dip was enough to reverse 2 straight weeks of increases, according to a report from the American Academy of Pediatrics and the Children's Hospital Association.
New cases totaled 63,862 for the latest reporting week, March 26 to April 1, compared with 64,029 for the previous week, the AAP and the CHA said in their weekly COVID-19 report. For the week ending April 1, children represented 18.1% of all new cases reported in the United States, down from a pandemic-high 19.1% the week before.
COVID-19 cases in children now total just under 3.47 million, which works out to 13.4% of reported cases for all ages and 4,610 cases per 100,000 children since the beginning of the pandemic, the AAP and the CHA said based on data from 49 states (excluding New York), the District of Columbia, New York City, Puerto Rico, and Guam.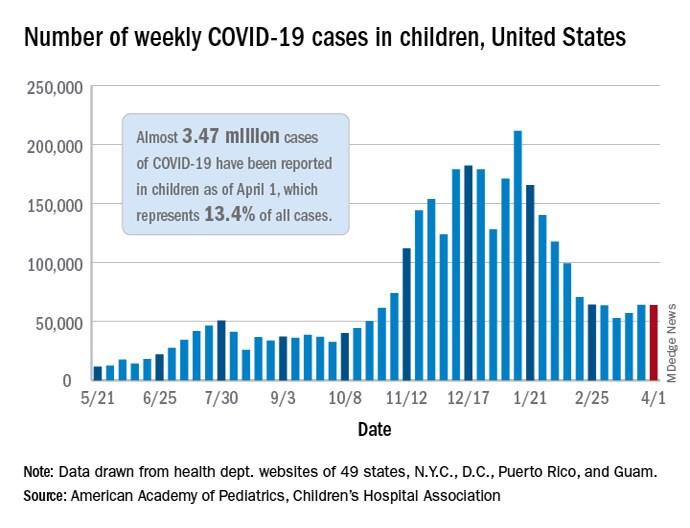 Among those jurisdictions, Vermont has the highest proportion of its cases occurring in children at 21.0%, and North Dakota has the highest cumulative rate at 8,958 cases per 100,000 children. Looking at those states from the bottoms of their respective lists are Florida, where children aged 0-14 years represent 8.4% of all cases, and Hawaii, with 1,133 cases per 100,000 children aged 0-17 years, the AAP/CHA report shows.
The data on more serious illness show that Minnesota has the highest proportion of hospitalizations occurring in children at 3.1%, while New York City has the highest hospitalization rate among infected children, 2.0%. Among the other 23 states reporting on such admissions, children make up only 1.3% of hospitalizations in Florida and in New Hampshire, which also has the lowest hospitalization rate at 0.1%, the AAP and CHA said.
Five more deaths were reported in children during the week ending April 1, bringing the total to 284 in the 43 states, along with New York City, Puerto Rico, and Guam, that are sharing age-distribution data on mortality.
This article originally appeared on MDedge.com, part of the Medscape Professional Network.
Source: Read Full Article