5 Reasons to Race an Early-Season Triathlon
Triathlon season usually stretches from summer to fall, when lakes are warm and days are long enough to get in after-work runs and rides. But entering an early season tune-up is a good idea. "It's just good to get back into the mental side of racing," says Paul Wolf, a triathlete from Texas.
In March, Men's Health featured five triathletes from team PlayTri in Colleyville, Texas, gearing up for the Luck Of The Irish sprint triathlon on March 17, plus coaches' best tips on racing a sprint well. We caught up with these athletes post-race to see what they gleaned from the event, and what they'd do over if they had the chance. Their insights on why you should sign up for that race now:
1. You'll Use Your Rest Time Wisely
Chase Sparrow, 30, hoped to end up in the top five finishers in his age group, and he achieved that—although it was a nail biter. Over the winter, Sparrow ended up with an overuse injury, which manifested as pure, intolerable pain in his piriformis. "It was me neglecting recovery," he says blaming himself. "It started off with one or two niggles," he says. Which he ignored, until suddenly, it was pain so bad he could barely walk.
Sparrow had to take off the months of October through December. But he used that time to mentally reset and work on his swim technique. After a full month off, his doctor cleared him to swim and he hired a coach. "I've been really focused on the core fundamentals of getting better technique and it's made a big difference," says Sparrow, who finished in 56:28.
2. You Get The Cobwebs Out of Your Transitions
In sprint triathlons, which last about an hour, the time spent in transition matters. Getting the cobwebs out on exactly what you need and what order to grab it is the great thing about an early-season race. "One of the main good things is that it helps you with that familiarization of the transition areas, so you know what to expect because that's the most confusing part," says Kelly Dillinger, 47. His goal for this sprint was to finish under an hour, and he nailed it, coming in at 59:56.
For most of the race, Dillinger and his teammate, Paul Wolf, battled back and forth. "Paul and I were neck and neck. There was only a one-second difference between us on the swim, and I beat him on the run, but his transitions were faster," says Dillinger. That was a good reminder to Dillinger to work on perfecting this skill for his next race.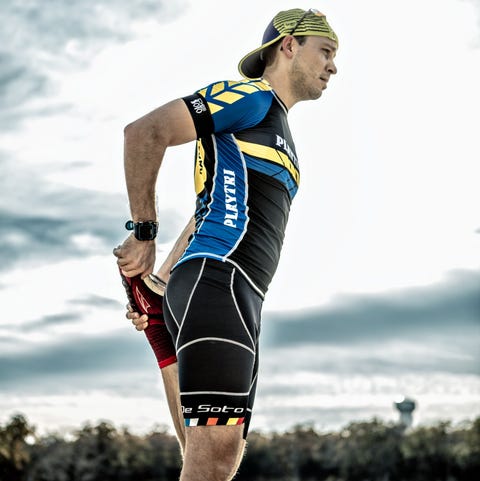 FREDRIK BRODEN
3. Your Winter Workouts Will Be Well Organized
Paul Wolf, 54, whose goal was to finish in under an hour, managed that handily—at 58:35—thanks to diligently following a training plan all winter. Wolf used a service called TriDot, which gives you computer-generated workouts based on when your next goal race is. "It really was dialed-in specifically for me, so I knew what I needed to do to get ready for my next race," he says.
While Wolf's real goal race is the same Galveston, Texas half Ironman that Dillinger is training for, he says that having this early race on his schedule made him get organized sooner. "I'm a check-the-box kind of guy. Every day I had to check the box on my workouts."
4. DNS is NBD
The great thing about entering a short, early season race is that it gives you something to train for, but it doesn't have the weight (and expense) of the half- or full-Ironman distance events that come later in the year. So if your training doesn't go according to plan, it's not a big deal to pull the plug (DNS = Did Not Start).
That's the lesson Andrew Harley, 31, learned gearing up for Luck of the Irish. "About a month ago, I had some pain in a metatarsal that shut down my running for a few weeks," he says. The pain was likely from a new pair of shoes he was trying. "I am almost over that now and am reintroducing running back into the workout regimen. It feels comfortable at a moderate tempo but as soon as I turn the pace up, my foot reminds me I am not 100 percent," he says.
Harley's real goal race is a half Ironman in Costa Navarino, Greece. With that race less than a month away, Harley decided it was best to sit Luck of The Irish out. "It was a tough call," but knowing it's more important to be 100 percent in Greece, he felt this was the right one.
5. The Race is a Confidence Booster
Everyone on team PlayTri calls April Hince "The All Star" because she can smoke everyone on the team. Which she did, winning overall female at the Luck Of The Irish Sprint Triathlon at 51:48. And she swears she didn't think she'd do that well, since she'd spent the week beforehand eating and drinking her way around the Bahamas on a cruise.
"Doing an early season race gets you in swimsuit shape early," she jokes. And if you ace it, you have just a little more confidence as you head into your bigger goal races. Hince, for example, is trying to place in the top two in her age group at the 70.3 distance race in Galveston, Texas. "If I'm in the top two then I get to go to Nice, France this summer to compete," she says. It's going to be a hard goal to hack, since tons of quick folks show up to the Ironman Texas 70.3 race. But knowing she's got some serious fitness is a big boost.
Source: Read Full Article